Key Ideas
Five is the magic number. After five customer interviews, big patterns will emerge. Do all five interviews in one day. (p. 197)
Watch together, learn together. Don't disband the sprint team. Watching together is more efficient, and you'll draw better conclusions. (p. 218)
A winner every time. Your prototype might be an efficient failure or a flawed success. In every case, you'll learn what you need for the next step. (p. 223)
After showing the application to a Rathbones employee, I received some very interesting feedback. Below is the prototype before the feedback was given. Email trail as follows: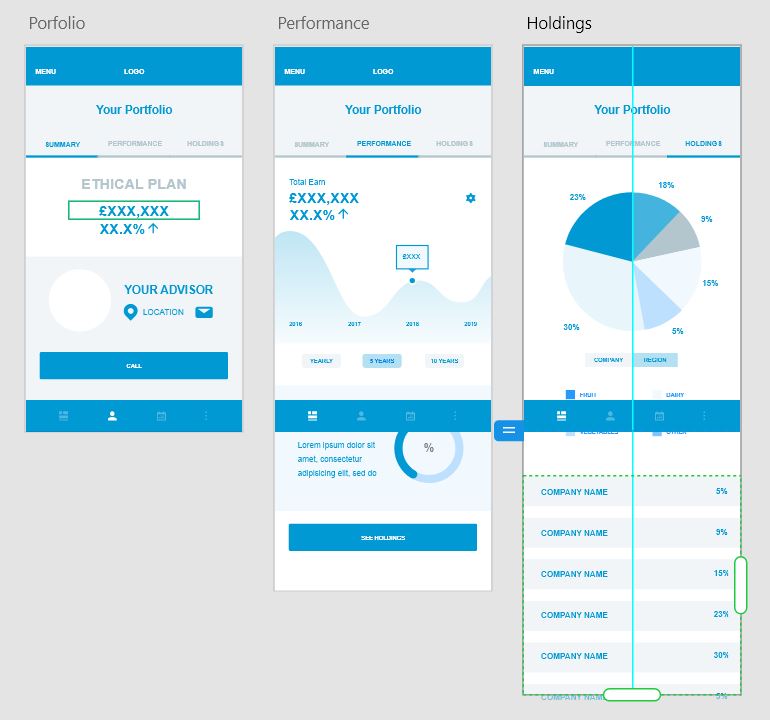 Hello James,
After our meeting today I would like to confirm that the Greenbank application process is running smoothly and would like to gather some constructive feedback in order to complete the final steps and provide the team with a prototype ready for development.
Thanks,
Kirsti
Hello,
Thank you for showing the team the prototype, we believe we are on track to achieve our goals, however, we have some adjustments to make to the portfolio section of the application in order to match our clients needs. On the portfolio in the summary, it would be useful to show the the value of the portfolio since inception with total gain/loss and another section showing todays gain/loss. Also how much the share is worth would be useful. The name of the account would be Greenbank Portfolio.
On the performance section, could we either take away the yearly option or add an 'inception' option, as the clients have investments ranging from 10-30 years. So this would be more useful to see in a graph form. Again, as discussed it would be good to reveal the most ethical company at this stage.
On the holdings section, the clients would have on average between 40-50 companies invested so this would not work well as a pie chart currently shown as the percentage would be too low. We would suggest to sort these by geography and sector for client ease of use. Within this section, where the list of holdings is shown, it would not be relevant once again to have the percentage shown or how much they have invested into this company. It would be more useful to have what the company value is, their location and whether if it is growing in value. As there could be up to 50 companies in this section, we would suggest ranking these by top five gains overall and top five losses. This way the client isn't bombarded with information on companies that aren't changing in value. As suggested by yourself, it would be extremely useful for the clients to be able to click on each company and read information about the ethical values it portrays.
A few other small points, the size of the fonts and buttons needs to be larger. The menu bar at the bottom, we would suggest labeling so the clients know, as most of them will not use many applications.
We look forward to seeing the revised product.
Kind Regards,
James
Rathbones