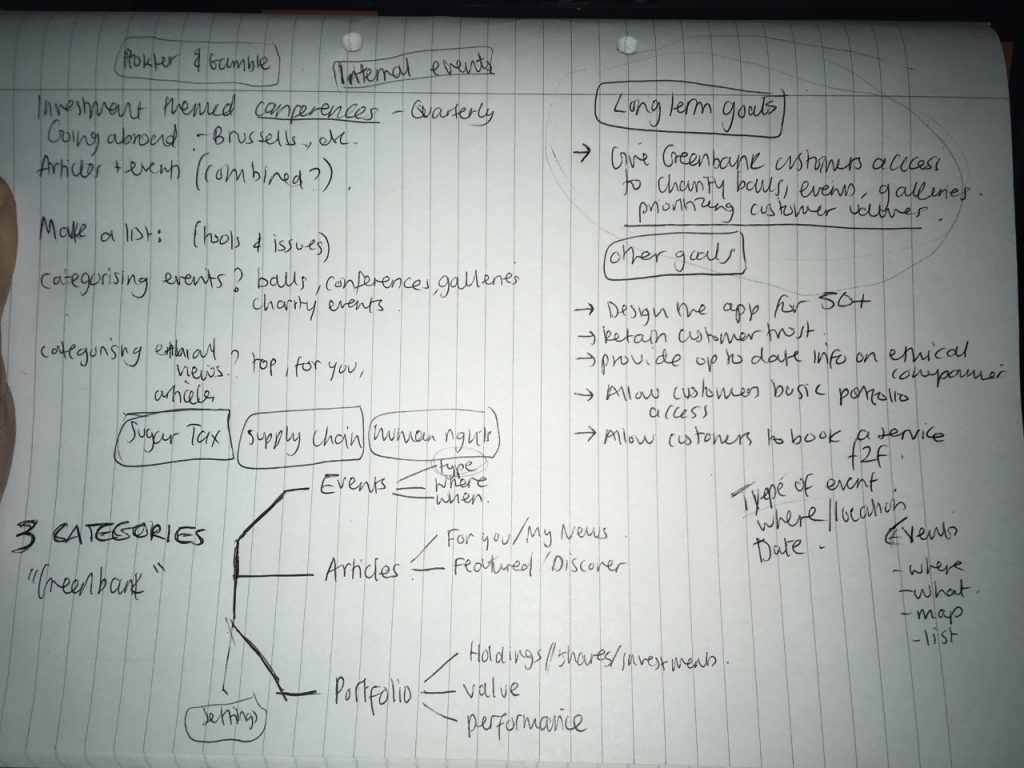 My first industry feedback came from those within Rathbones the company. I wrote an email detailing the different sections I intended to pursue the application, and included those that I may rule out to let the experts guide how the application should function.
Email chain below:
"Dear Mr Hampshire.
Just a follow up email as per our discussion yesterday. As discussed in our meeting, we have detected themes in our initial sprint for review to include on the Greenbank application prototype:
These were as follows:
Prioritise client ethical values: As discussed we plan to go forward with the idea that Greenbank customers would benefit from blogs and articles directly sourced from Greenbank researchers. We plan to have 'news/articles' section on the application so your clients can read and share information about ethical issues.
Provide an overarching view of their "portfolio" to access  in a basic format, this will include an overall value, performance and their holdings.
We want to introduce the ability to "contact" book a face-to-face meeting, over the phone or request a paper/ handwritten letters via the app. We have ruled out access to advisors via Facetime style application as this would not appeal to your clientbase, we also will not include any ability to buy, sell or effect their investments
Allow the clients to see what exclusive events provided through Rathbones and other charities e.g. conferences, charity events, art galleries, exhibitions, auctions. We also discussed the idea to categorise and include type, where and when these events take place. Moving foward, we may introduce booking places, push notifications and access to clients calendars to remind and date these events, we will need to do more user testing.
We also strongly recommend that with the protoype approved, and development process underway, the application should be martketed at clients as an added bonus to getting a Greenbank account.
Response:
"We are happy to discuss the application proposal for our Greenbank investment clients. It is important for our clients to retain the trust in the brand. As we do not currently have an application within any of our sections, we are interested but also aware of the effects it may have upon our brand of over 100 years. It is important for us not to alienate our clients with technological advances.
As previously stated in our meeting, the application need not have the ability to invest for the client or give a full transparent view of their portfolio. This confidential information is, of course are available at our clients discretion. However, this is not a feature needed to be pursued by the team. It may be useful to show an overarching summary of their ethical values, investments and holdings, however it is our role to research and invest the clients assets.
We do have an entire team of researchers specifically focused on identifying the ethical abilities and values of companies, and if their grass roots are ethical and predicted future themes. For example, the company <removed for discretion> may not appear to be unethical on the surface, but delved deeper into the sources for products, we may find a different result. The idea to include informative articles would be beneficial to our clients.
In terms of clients attending events, conferences and charity events, this does occur multiple times a year and prove very popular with our clientbase. For example, we had events last month concerning sugar tax, supply chains and human rights. These events are hosted by us and we would normally inform them in paper or in person. It would be a bonus to include these on the application. As discussed in the meeting, we are open to basic application structures but would need further contact to include more advance processes such aspush notifications and calendar bookings.
As we went into much detail into advisors and client relationships, we do not want to compromise this. Our clients like meeting us face to face and as we agreed, we do not want to change this. However, having a direct button to call or contact their advisor or bank may be useful to them.
We look forward to reviewing the next stage of the application.
Regards,
James Hampshire
Rathbones"
Rathbones gave very useful examples of when a client may need or want to contact their advisor, this helps to build the user journey and touchpoints with the client. They may be worried about Brexit, or Trump and the trade war. They may have downsized recently or may want to take more/less out of their pension, if the state one kicks in. They may want to reduce their level of risk because they are becoming more elderly. They may want to put their money into a trust fund. They will call us on the phone, for exmaple their granson is going to private school and they wish to pay for the provate school fees out of their portfolio. rathbones would suggest they come into branch for a check up and then they can access their account. The app could reduce the friction and make a easy datdabse to book meetings and keep up to date with technology.