To be able to make a sketch of how the application will be used, I made a sketch of the current user flow and Information architecture of the 'Greenbank' section of the Rathbones website to make sure i included the most important information and understood how the client worked. Something to consider at this point is that I cannot access the 'Client login'. I interviewed an employee from Rathbones with very interesting results which eventually changed and shaped the final goals for the Greenbank application.
Resources (For the IA mapping):
https://www.sketchappsources.com/free-source/1797-visual-vocabulary-information-architecture-interaction-design.html
A list of the main goals needed to be achieved by users of the application, as described by the GV sprint. Initially these are the most common goals before the interview.
1.Raise awareness |  2. Access Portfolio & request changes |.  3. Book a meeting via facetime
I am currently building a PDF document for a UX report for Rathbones. I will make one of these for each client – an industry standard to also go along side the final prototype.
After the interview, I realised that the need to book an appointment on the application would not work. Customers do not need this and would not like this. They are very invested in their portfolios and actually enjoy coming to see, or speaking on the phone with their personal advisors. Some even receive hand written letters – it is important that these values are retained with Rathbones. They are not trying to be the new Nutmeg. Clients enjoy the finer things in life, including attending many events in tight circles.
Following the GV Sprint I needed to "Set a long term goal" (p55). After research and discussion I decided this would be to retain and gain greenbank customers by providing an ethical service and build awareness through the application. I also made a list of all the things that could go wrong, including the application not being used and the loss of trust within the company. Trust and respect is key to what drives customers to hand over their assets and investments. It is an old bank with old values, customers are written to and speak on the phone. They can have access to an advisor over the phone when they wish, they do not have an existing app. Customers need to utilize this application and it needs to give them a beneficial addition to their already busy lives. They do not want to invest themselves, other investment companies provide this option. They trust their advisor and only see them a few times a year, if that. Minimum every 3 years.
Taking this into consideration, I came up with my "Sprint Questions". Can we give clients a better understanding of ethical investments and company values? How do we give our clients access to exclusive charity events, specifically environmental? Will the application change how clients contact their advisors? How do we retain customer trust and reputation?
GV suggest making a "customer centric" map (p59) with "Actors" on the left and the "end goals" on the right. As I want the application to be a full prototype, I have multiple goals to achieve.
How might we method
By defining themes and insights, you've identified problem areas that pose challenges to the people you're designing for. Now, try reframing your insight statements as How Might We questions to turn those challenges into opportunities for design. We use the How Might We format because it suggests that a solution is possible and because they offer you the chance to answer them in a variety of ways. A properly framed How Might We doesn't suggest a particular solution, but gives you the perfect frame for innovative thinking.
http://www.designkit.org/methods/3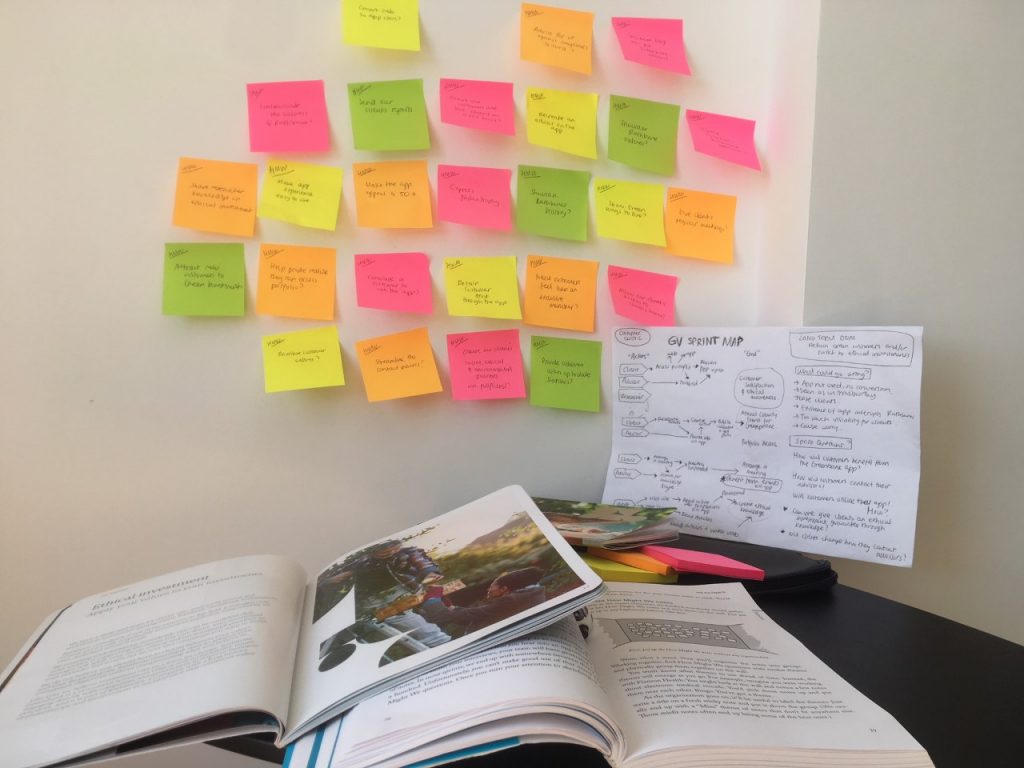 I used the How might we method to identify and sort different ways to look at the challenges faced, I am at a disadvantage because I am working on a solo sprint. However, by sorting these How might we's into themes and categories we can see the most common ones to explore. Using the dot method, I asked my decider "the expert" to choose the most important and/or interesting to explore and narrow these down to start sketching in Tuesday's sprint.
1. HOW MIGHT WE? Make the app appeal to 50+ age group > Design and functionality
2. HOW MIGHT WE? Prioritise customer values > A more general HMW, however lots of HMW fall under this theme.
3. HOW MIGHT WE? Make our customers feel like an exclusive member? > A different approach is needed to appeal to those who invest green.
New goals after interviewing the experts and mapping.
1. Provide relevant and details articles about ethical issues and companies
2. Provide an overarching view of their portfolio to access at their will – ability to book a face-to-face meeting, over the phone or request a paper/ handwritten letter.
3. Allow the clients to see what exclusive events provided through Rathbones and other charities e.g. conferences, charity events, art galleries, exhibitions, auctions.