Focus on Portfolio section:
Looking at other investment applications, e.g. wealthify, wealth simple, trading 212. I have gathered extensive knowledge of what to include on the "Portfolio" section of the app. These include:
Value of the portfolio
Performance
Total value
Total Earning
Graphics
Pie Charts
Categorise by investments type, area, geography
Catergorise by list or pie chart
List of the holdings/shares > Need to show: Company name, location of company, +/- numerical value and +/- percentage value.
positive or negative values
Over time (minimum is 5 – 10 years (sources: Rathbones) average is around 30 years
Show future predictions?
Toggles
The main issue at the moment is recognizing where the advisor section should sit within the IA of the application. I'm not sure whether to have an entire contact section or to have the contact section within each individual plan. I will go back to the industry expert to discuss this.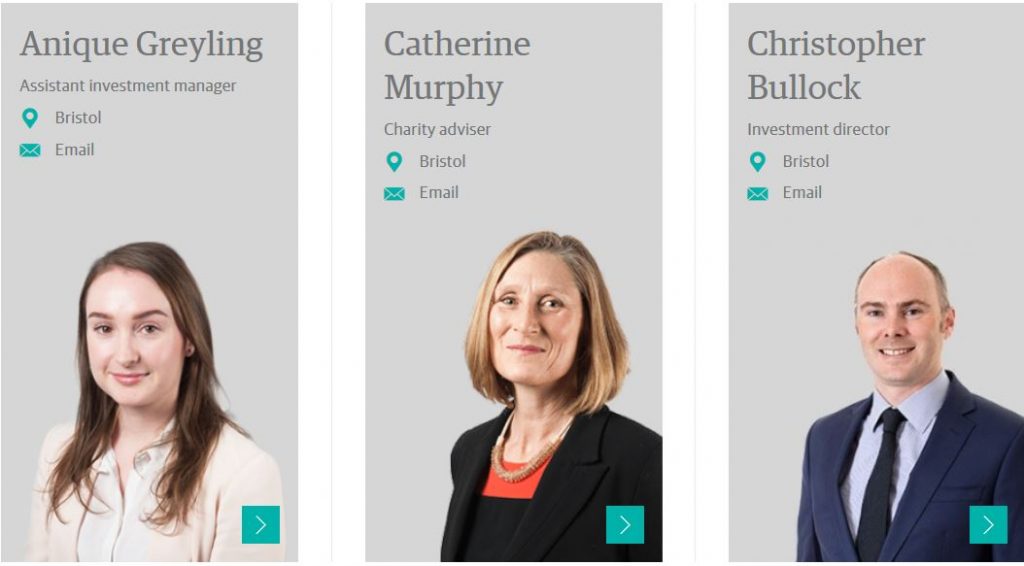 In these rapid prototypes I am using information remixed from other banks. The top left diagram, my idea came from the 'Wealthify' app. Having access to multiple 'plans'. However, after speaking to the expert, we realized that having multiple wouldn't make sense – they wouldn't have access to this. They would have to have separate investment managers so it wouldn't make sense. They are either one of the other.
Page 1 > Summary – including, type of plan, overall worth, overall growth, advisor info and call button
Page 2> Performance  > worth with a graph, + and – , show yearly/monthly
Page 3 > Investments > list of investments, pie chart, company names, stock market, numerical value of company,  + – percentage
Other inspiration comes from Money box and uber.
Events – looking at Greenbank Rathbones events, I researched the categories and the events that would feature within the application.
Rathbone events
https://www.rathbones.com/charities/events-training-and-support
https://www.rathbones.com/knowledge-and-insight/keyword/conversations
A Conversation with William Shawcross
For our first Conversations event we were joined by William Shawcross, chair of the Charity Commission, who spoke on the theme of  'regulating charities – promoting public trust.' Mr Shawcross explained the Commission's regulatory approach; focusing in particular on its work to help support the majority of well-meaning trustees fulfil their duties and responsibilities.
Charity donors of the future
We were delighted to welcome current and prospective charities clients to the wonderful Laing Art Gallery in Newcastle for the latest in our series of Conversations. Leading the discussion was Will Higham, an expert in predicting future consumer trends, who we had asked to consider how charities might appeal to the charity donors of the future.
23 July 2015 Read more
William Shawcross and the Charity Commission
We were delighted that William Shawcross, the recently-reappointed chairman of the Charity Commission, agreed to lead the first in a series of Conversations between prominent speakers and our charity clients and other valued contacts.
7 July 2015 Read more
A Conversation with Will Higham
The rapidity and intensity of recent technological, economic and social change is having a profound effect on the way Britons think and behave. But what does that mean for charities? Is it good or bad news? What are the opportunities – and threats – for engagement, fundraising and volunteering?
Analysing the future: A Conversation with James Woudhuysen
At our second Conversations event in London, James Woudhuysen talked to our guests from the charities sector about how successful forecasting depends on the way that data is collected, analysed, presented and challenged.
We also received an exclusive interview with James afterwards. Videos of which can be viewed here.
22 December 2015 Read more
A Conversation with James Woudhuysen
When charities forecast their future – whether to support decisions on strategy, innovation or service delivery – they need to examine three kinds of data
30 November 2015 Read more
A Conversation with Alan Chambers
The support of donors is important for charities but what about that of the team behind the charity?
A conversation with Jo Fairley
Jo Fairley is co-founder of Green & Black's. Jo was among the first to highlight the social responsibility of food producers and Green & Black's, earning awards for entrepreneurial and ethical achievement as well as changing the fortunes of the Maya Indians in Belize who grow the cocoa. Green & Black's is a leading name in organic chocolate and the first brand to be awarded the UK Fairtrade Mark. What began with an investment of £20,000 grew into a business worth £100 million less than 20 years later and we were lucky enough to hear her fascinating story of how she turned the brand into a household name.
Watch the videos below to find out what Fairtrade and a strong corporate social responsibility programme was so important to the company's success, and hear Jo's advice to entrepreneurs looking to follow the same ethos.
With videos!
Charity Symposium 2018
Over 250 charity trustees and investors from all over the UK gathered at the annual Rathbones Charity Symposium at the IET in London on Wednesday 18 April, for an afternoon of discussion and debate on leadership and governance in challenging times. We heard presentations from seven speakers, followed by a panel Q&A hosted by Jonathan Dimbleby.
https://www.rathbones.com/knowledge-and-insight/charity-symposium-2018
Folio Prize
https://www.rathbones.com/knowledge-and-insight/keyword/folio-prize
Rathbones sponsors the Authors XI cricket team
As part of the Rathbones Folio Prize programme of events, we are delighted to be sponsoring the Authors XI cricket team during their 2019 season. Rathbones is truly committed to supporting the arts, education and sport.
Source: Rathbones
https://www.triodos.co.uk/events